Internet Explorer 11 installation and configuration
Microsoft's legacy browser (and every serious web developers' longtime nemesis) Internet Explorer 11 (IE 11) is not officially supported any more. See Edge for its successor.
Installation
Internet Explorer 11 is already installed in Windows environments — even on Windows 10, where Edge is the default browser.
If needed, check out How to locate and open Internet Explorer in Windows 10 (Microsoft.com). Be sure not to accidentally mix up these two while developing and testing for accessibility!
Configuration
Displaying relevant toolbars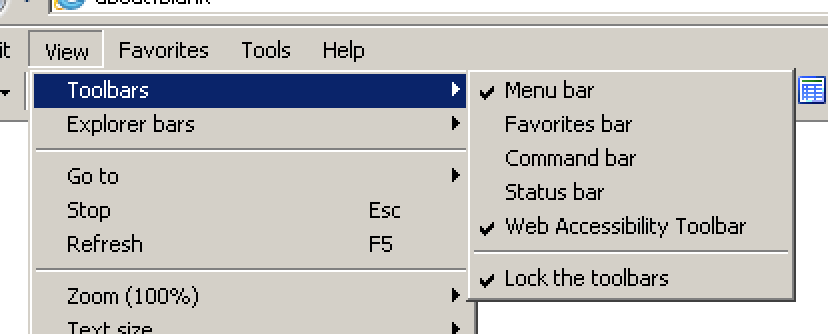 Make sure that in the menu, under View → Toolbars, at least the following items are selected:
Menu bar
Status bar
Web accessibility toolbar
If you do not see the menu, press the Alt key once.
Restoring tabs after restart
You may open and close browsers repeatedly during accessibility testing. To see how to configure IE11 to restore tabs upon restart, see Force Internet Explorer to restore last browsing session (TheWindowsClub.com).